TMD/Migraine Headaches
Modern Diagnosis and Treatment for Temporomandibular Joint Dysfunction and Migraine Headaches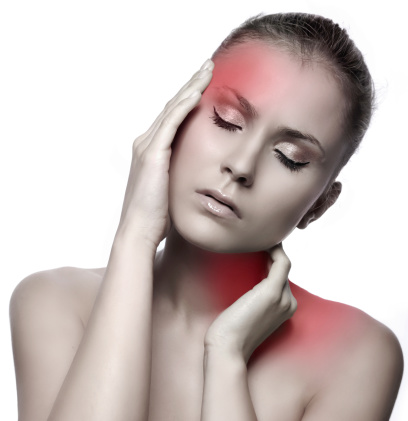 TMD is a disorder affecting the body's two temporomandibular joints, which are located directly in front of your ears. They're triangular-shaped and designed to act like hinges for your jaw, allowing you to comfortably and easily open your mouth to eat, drink, and speak. A patient struggling with TMD may experience a wide range of painful or aggravating symptoms, among them frequent headaches or migraines. Other TMD symptoms:
Neck, shoulder, or lower back pain
Tingling of the extremities
Difficulty hearing or ringing/pressure in the ears
Pain, tenderness, or swelling of the face
Jaw popping/clicking
Restricted jaw movement
Signs and Symptoms of TMD
+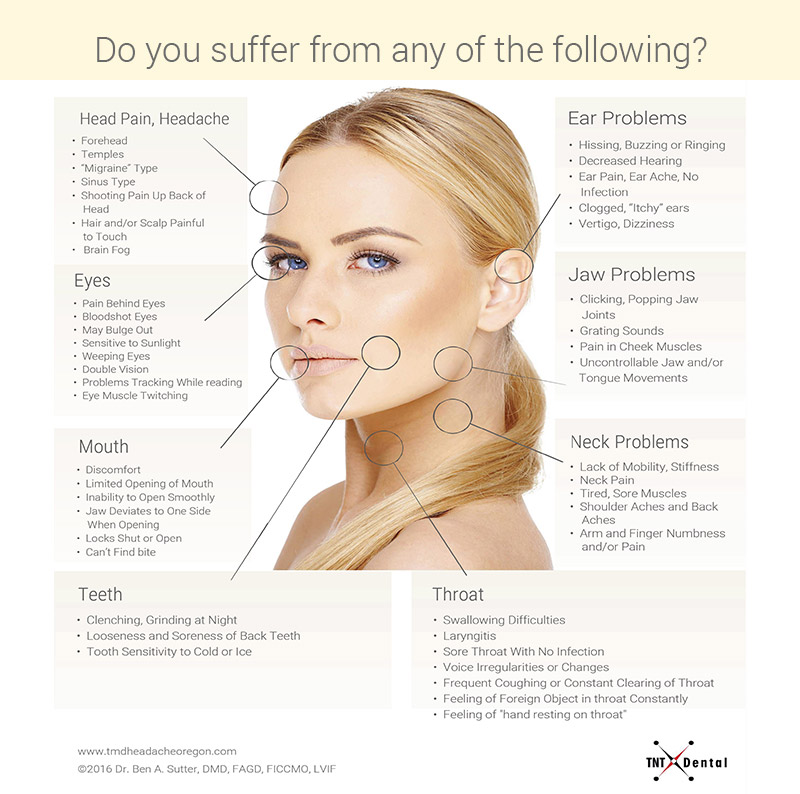 Types of TMD
There are actually different varieties of temporomandibular joint disorder. According to the literature, the conditions fall into these three main categories:
1. Myofascial pain caused by the muscles that control jaw function (over 90% of the cases fall into this category)
2. Dislocated jaw or the displacement of a disc, resulting in internal derangement
3. Degenerative joints such as arthritis in the jaw joints or osteoporosis
What Causes TMD?
The causes behind TMD can range of misaligned teeth and/or teeth grinding to whiplash, sports injuries, or missing teeth. TMD is a disorder of the jaw joint, nerves, teeth and chewing muscles that fall into three main categories. Regardless of the cause, though, Dr. Sutter offers state-of-the-art care backed by years of advanced training and education.
Diagnosing TMD and TMD-Related Migraines
Dr. Sutter is one of the few dentists in Eugene, Oregon, to diagnose TMD with K-7 and Tek-Scan, two sensitive and revealing diagnostic tools. The K-7 system performs electromyographies, joint sonograms, and computerized mandibular tracking, allowing Dr. Sutter to precisely evaluate your joints, muscles, and range of motion. The Tek-Scan tool lets Dr. Sutter measure the forces and timing of your bite to see if they're even or need adjustments.
Following a diagnosis with these tools, we can explain your needs and help you create a customized treatment plan which may include any of the following:
Disclusion Time Reduction is a computer-guided form of treatment that makes minor adjustments to teeth, improving occlusion and allowing the muscles to relax. By improving occlusion and relaxing muscles we can eliminate pain and the need for surgery or wearing a mouthguard.
Neuromuscular Dentistry
Neuromuscular dentistry concerns the treatment of your muscles and nerves, in addition to the treatment of your teeth, gums, and jaw joints. A neuromuscular dentist like Dr. Sutter brings a whole-mouth approach to care, following the idea that every part of your smile should work together in harmony. The result isn't just better oral health but better wellbeing overall.
Schedule Your Consultation Today
Are you living with the pain and aggravation of TMD? With modern care from Dr. Sutter, we can help you relieve your symptoms and enjoy better health and wellbeing again. Call our Eugene, Oregon, dental office to schedule your appointment. We look forward to serving you.